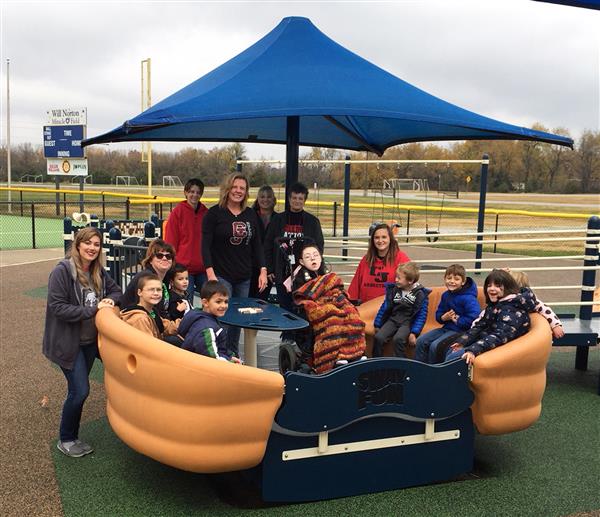 Walter's Story
Walter is a student who has a head injury from shaken baby syndrome. He likes to go outside but becomes overwhelmed by the noises and movement and is only able to play for about five minutes before he hides underneath the slide. He wears a helmet to protect his head from further injury. If he had a cozy dome to climb in and out of, he would be able to seek respite at times of over-stimulation, calming down to play again.
Katie's Story
Katie has a genetic disorder that causes muscle weakness in her trunk and extremities. She requires a wheelchair for mobility and is able to push her own pink manual wheelchair on flat surfaces independently. She fatigues quickly and is able to scoot on the ground over flat surfaces but does not have the strength to climb. She is very motivated by peers and has typical cognitive and social skills. She very much wants to play and make friends but is unable to access the current playground.
Caden's Story
Caden has cerebral palsy, but he does not require a wheelchair for mobility. He has high muscle tone in his legs, causing them to rotate inward as he walks on his toes. His legs "scissor" when he runs. He has great difficulty navigating the uneven surfaces the mulch presents, ending in frequent falls and abrasions. With a smooth, solid surface, he could run with his peers without falling.
William's Story
William has Down's syndrome. This syndrome causes hypotonia or low muscle tone and has difficulty climbing or maintaining grip strength. He tires easily. William is very social and loves his friends. He wants to play with them but has difficulty keeping up. He has difficulty navigating the uneven mulch surfaces and tires after climbing up the stairs of the structure one time. He requires close supervision for safety and has to rest after climbing. He would benefit from more accessible structures and ground cover to allow him to fully engage in play with his friends.
Luke's Story
Luke came to our district through a foster care placement. He has cerebral palsy, which affects his muscle tone in his arms and legs causing movements to be limited and difficult. He requires a wheelchair for movement and he is able to propel the wheelchair on his own. When Luke goes out to recess with his friends, he is not able to move the wheelchair on the mulch at all. He is confined to sitting in one place while his friends run around and play. The structures on the playground are not accessible for him to use. He has a beautiful, bright smile and he loves to interact with friends. Luke struggles to stay motivated in school because each task he attempts is very difficult for him to complete. Play and interaction with friends is very motivating to him and facilitates cognitive development, communication skills, and attention to task for learning. If we replace the mulch on the playground with a solid, poured-in-place rubber surfacing, Luke could propel his wheelchair independently around the playground. If he was able to move about on the playground independently and to get onto structures, he would easily make friends and have many opportunities for independent play. The structures the district would like to purchase would be accessible for him. When he is able to go outside with therapy and get down on a rubber mat on the sidewalk with a friend to draw with chalk and squirt water bottles, he is the happiest child in the world.
Brandon's Story
Brandon has autism and becomes easily over-stimulated by sensory input. He loves to run on the playground, and make loud noises. He often avoids climbing on the structures because of the many other children on them. He waits until the whistle blows to line up and then runs up to the top of the structure to play. If he had some ground-level structures that provide movement input he may be more willing to engage in play during the time available and have a structure to calm in when needed.
Susan's Story
Susan has a visual impairment. She is legally blind and is only able to see shadows. This creates difficulty for Susan as she attempts to navigate the structures and uneven surfaces, posing safety hazards. Susan would be far more independent and safe with solid surfacing and ground-level accessible structures to play on with her peers.
Austin's Story
Austin has an auditory impairment and uses a special amplification system with his hearing aids. He engages in more vestibular (movement), tactile, and visual play experiences to meet his needs. New additions to the playground would also address these areas.
These student stories represent many of the past, present, and futures students served by the Carl Junction School District. While the stories are based on facts they do not represent any particular person.
Last Modified on November 5, 2018