Missouri PBS Gold Star School
Misosuri Schoolwide Positive Behavior Support formally announced the names of the Missouri schools recognizing Carl Junction K-1 for their exemplary implementation of Schoolwide Positive Behavior Support (SW-PBS).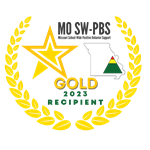 SW-PBS is an evidence-based, proactive approach to teaching and reinforcing positive behavior in students, thereby improving student behavior, creating safe schools, and maximizing instructional time and student engagement. Successful systematic changes, such as SW-PBS, will help Missouri reach the goal of The Missouri Department of Elementary and Secondary Education's Show-ME Success Plan which focuses on preparing all Missouri students to graduate ready for success.